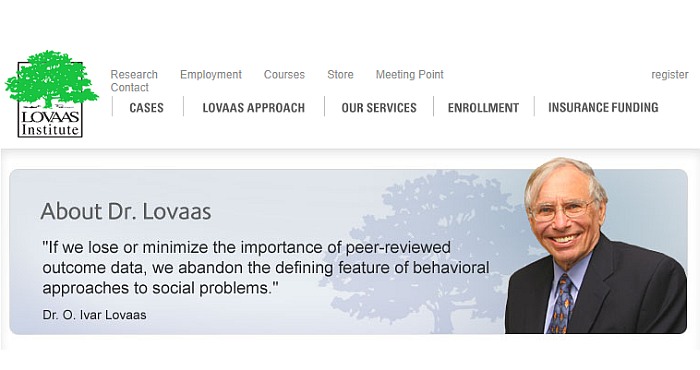 Ole Ivar Lovaas is a Ph.D and an autism expert that is known all over the world. She has been quoted as saying, "If a child cannot learn in the way that we teach, we much teach in a way that the child can learn." Sometimes, we can use apps to teach our autistic children. They have actually been revolutionary in autistic learning, and here are some that she has recommended.
Apps For Autism Recommended By A Ph.D
Starfall ABC/Learn To Read: Only available on iTunes, this app teaches your child the alphabet by showing them how to sound the letters out. Applied Behavior Analysis therapists are even using this app to teach and to serve as a positive tool for reinforcement in sessions. It is actually like flash cards that are interactive. In the app, once letters and sounds are mastered, it then helps to introduce simple sentences, stories and encouraging characters.
Download Starfall ABC/Learn To Read
Super Why!: This is a PBS Kids app that will help your child to be part of a hunt for letter identification, assisting Alpha Pig, Princess Presto, Wonder Red and even Super Why himself. Activities include tracing letters, practicing words that rhyme and selecting specific words needed to finish stories. There are also games that feature fill in the blank work so that reading comprehension is taught, all with the help of some of the child's favorite characters. Other skills that can be developed with this app include imagination, writing, language, vocabulary, reading and fine motor skills.
Emotions and Feelings – Autism: One of the biggest struggles facing many autistic children is the ability to recognize facial expression and emotional recognition. This app makes use of social stories as well as simple illustrations that can show what various different feelings tend to look like. It also helps to explain why certain people feel certain ways. It has been very beneficial in special education settings and speech therapy.
Download Emotions and Feelings – Autism
Pop Math Lite: This app version gives an introduction to basic addition in a fun and interesting way for children. Colored bubbles float around the screen, containing numbers. Some of these bubbles contain an equation and others show the answer. Children pop corresponding bubble pairs and then advance to other levels. Encouraging words are offered to keep the children moving on expectantly. Once addition has been mastered, the full version of the app can be purchased that will pick up from there, teaching subtraction, multiplication and then division.